---
---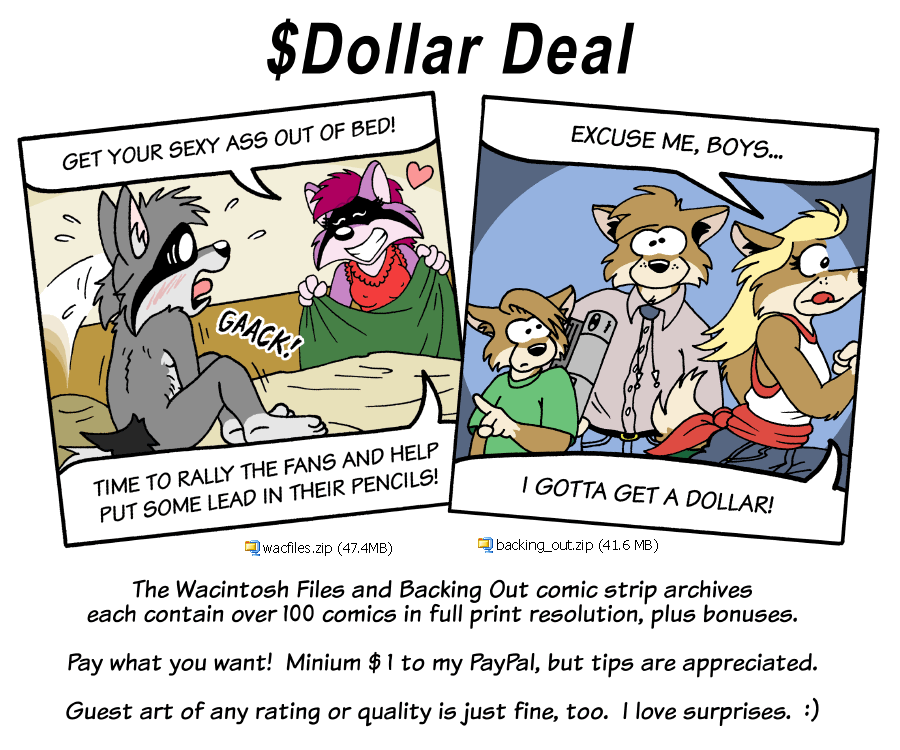 Dollar Deal!
This archive contains print quality and web sized versions of all the Backing Out strips I've posted online to date, as well as some filler I used while I was comic editor at my college newspaper. Backing Out is my longest-running comic project, officially spanning from my high school years in 1993 to the modern day. There's actually two editions of the strip: the original run in my high school and college newspapers, and the reboot which has been available online since 1999.
The web comic has been available for free for years, and I figure releasing a high resolution archive of all the strips is an acceptable way for me to make some actual money my fans to show their appreciation!
The original asking price is pay-what-you-want. I ask for a mere $1, but feel free to throw in a few more bucks into my PayPal account if you enjoy the read. If my DeviantArt account is still active, I could also use some DeviantArt points, since I've already given DA too much of my own cash, and transferring points doesn't involve a fee.
Of course, I'll also accept guest art of any style or quality. Those who know me know I get tons of commissions.
To order, just or contact me on DeviantArt or FurAffinity.
Thank you for your interest in my comic strips!
---